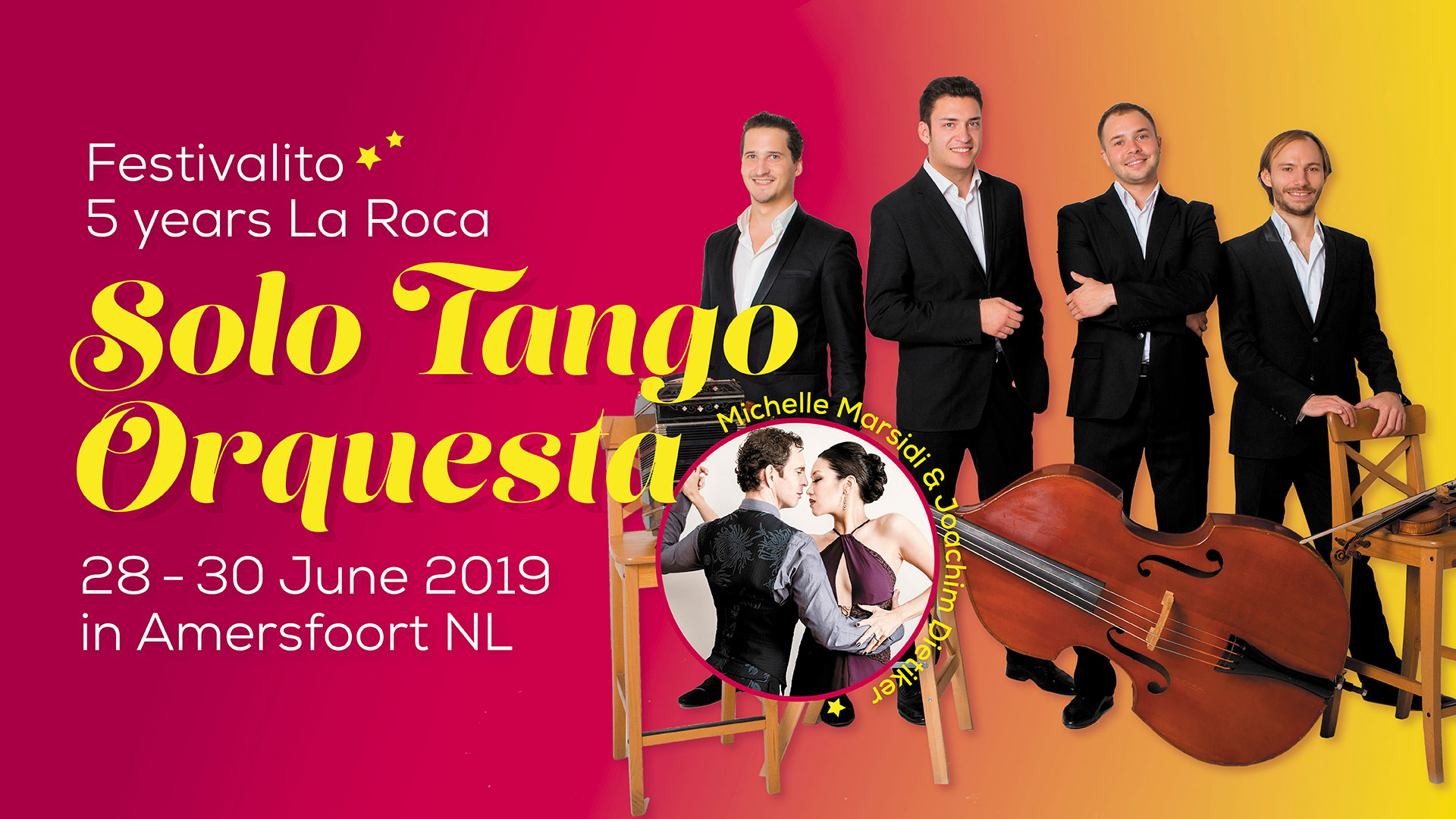 Cheek2Cheek
presents
Festivalito 5 Year Anniversary
A festival to celebrate 5 years of Milonga La Roca and De Danswerkplaats.
For 5 years now, La Roca attracts high level Tango dancers to meet each other monthly to dance the night away.
Every time accompanied by an international top DJ, well known in the international marathon, encuentro or festival scene.
Update: 2 last spots available for the masterclass (9 hours in 2 days) on Vals by Michelle and Joachim. Workshops on friday evening and saturday evening are fully booked, sent a mail if you want to be on the waiting list. 
How it started
In may 2014 we celebrated the official opening of De Danswerkplaats with the magnificent teachers Michelle Marsidi and Joachim Dietiker.
Now, 5 years later, we invited them back and created a wonderful festival weekend by also inviting Solo Tango Orquesta (they play twice!) and 4 DJ's  (Toufik Cherifi, DavidxTango, El Jirafa, Stefan Wimmer) Location: 'De Prodentfabriek' an old industrial venue, next to De Danswerkplaats.
So welcome all and celebrate with me.
The Program
For the festivalito we offer daytime milonga's and evening milonga's with livemusic by Solo Tango Orquesta and on sunday performance by Michelle Marsidi & Joachim Dietiker in de Prodentfabriek; large dancefloor and seating around the floor. These maestro's offer on friday and saturday evenings workshops (both FULL) and on saturday/sunday daytime a masterclass in de Danswerkplaats. On saturday night and sunday day/night Dance Lerracord will have a shoes stand with Regina tango shoes for ladies and men.
Milonga's (in de Prodentfabriek)
Saturday June 29
15.00 – 20.00 Daytime milonga DJ Toufik Cherifi 
21.00 – 03.00 Evening milonga + 2 live sets by Solo Tango (100% Dance music in tanda's) DJ DavidxTango 

Sunday June 30
14.00 – 19.00 Daytime milonga DJ El Jirafa (Jacob Vosmaer)
19.15 – 00.00 Evening milonga + 2 live sets by Solo Tango + Performance by Michelle & Joachim DJ Stefan Wimmer
Milonga prices & special offers
Early bird all in Dance package (until May 31) for 50 euro Including: 2 x daytime milonga + 2 x evening milonga with Solo Tango (100% danceable in tanda's) + on sunday performance by Michelle & Joachim. Dance package starting June 1st: 55 euro. 
Daytime milonga: 8 euro
Evening milonga: 25 euro with live music by Solo Tango. On sunday also performance by Michelle & Joachim.
One day package price: 30 euro (on one day daytime and evening milonga).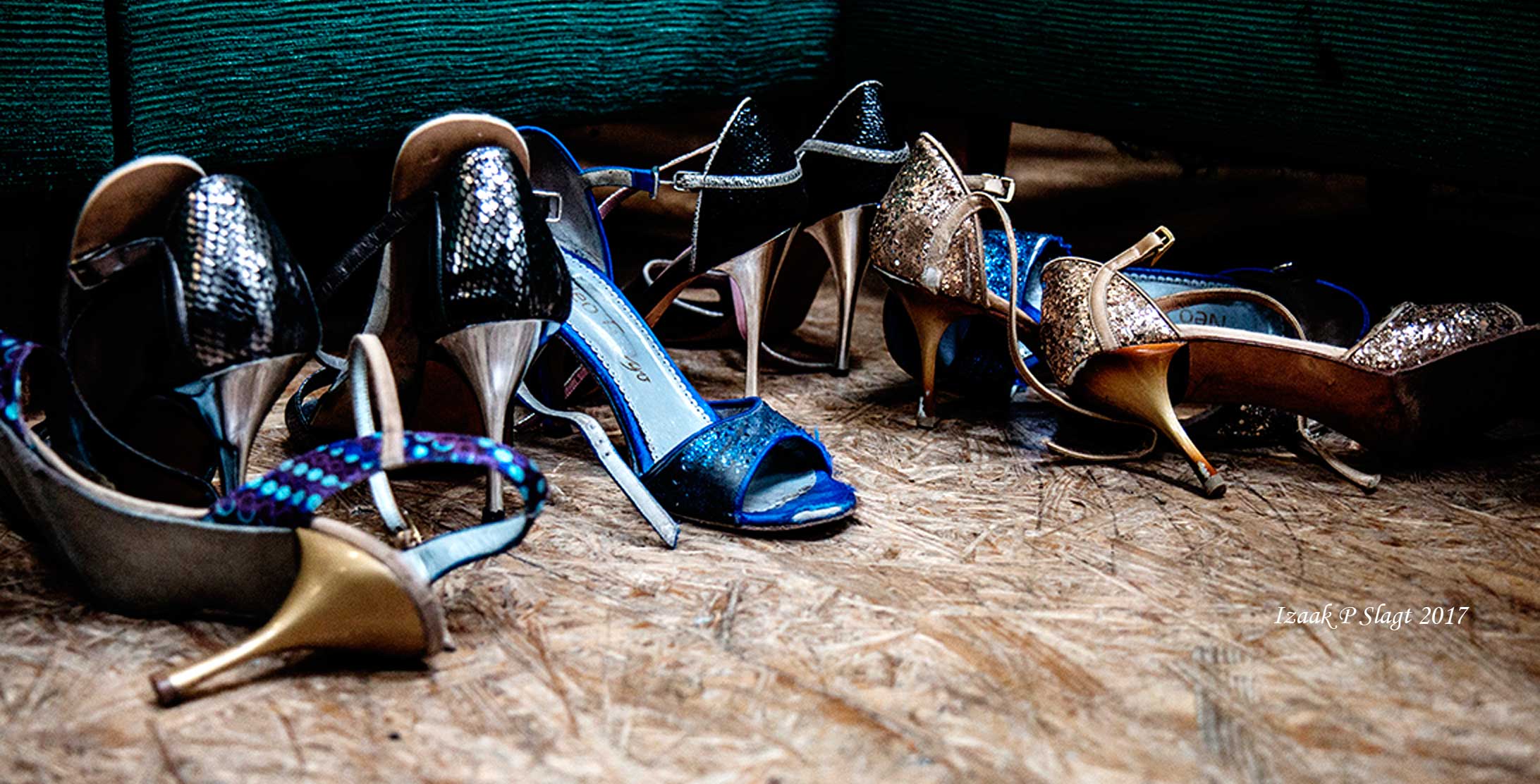 Workshops (in de Danswerkplaats)
Friday June 28
19.30 – 21.00 Circular Colgada's miniseminar part 1 FULL
21.15 – 22.45 Circular Colgada's miniseminar part 2 FULL
22.45 – 00.00 Practica time

Saturday June 29
19.30 – 21.00 Workshop Sequences for Small Space FULL
21.00 – 21.30 Practica
Details & prices workshops
Friday night Circular Colgadas 19.30 -21.00 21.15 – 22.45 (Practice until 00.00) FULL
In this miniseminar we will share tips and tricks for how to create circular colgadas in an easy, secure and fun way.  Some highlights we will explore:
Preparation of the body and use of body weight

Connection, communication and active response

Creating, maintaining and controlling energy and dynamic

Simple and combinations of circular colgadas 
Price: 45 euro per person (ticket is for the couple).
After the seminar music will be on until 00.00 to practice this seminar. 
Saturday evening: Sequences for Small Space 19.30 – 21.00 FULL
Secrets and Compact Figures for the Dance Floor. 
Intermediate and advanced level.
Price: 25 euro per person (ticket is for the couple)
After the seminar music will be on until 21.30 to practice.

Masterclass
13.00 – 18.15 Masterclass seminar 3 x 1,5 hours (continuing on sunday) Vals
Sunday June 30
13.30 – 18.45 Day 2 of masterclass seminar also 3 x 1,5 hours on Vals
Details & price Masterclass
Saturday and sunday Masterclass program The Joy of Vals
Saturday: 13.00 – 14.30, 14.45-16.15, 16.45-18.15
Sunday:   13.30 – 15.00, 15.15 -16.45, 17.15-18.45

Pure enjoyment of vals in all its rhythms and forms!  We'll focus on deepening our technique, developing our repertoire and interpreting the music, including studying topics such as:
Circular movements and turns

Changes of direction and cadenas

Different rhythmic patterns with doubles and triples

Phrasing

Musicality and dynamics
Teachers/Very advanced level only.
Price: 150 euro per person (you'll receive an invoice).
Included: 9 hours of dancing, coffee/tea, fruit/snacks.
On saturday you can enjoy the last 1,5 hour of the daytime milonga, included in your Masterclass ticket.
For the evening milonga's participants receive 10 euro discount on the entrance price of each evening milonga (so max 20 euro discount)

To register for the masterclass or for more information about the masterclass please send your inquiry via the contact form.
The artists
Michelle Marsidi and Joachim Dietiker 
With their flowing, sensual and graceful style, Michelle and Joachim harmoniously combine the traditional essence of tango with dynamic elements of contemporary tango.
In their teaching they strive to create a sensitive, vibrant and unique connection in the couple and with the music.  With useful exercises and imagery, precise technical explanations and body mechanics, and an open flow of energy and ideas, they aim to find freedom and pleasure in movement and expression.
They have a profound understanding of movement from studying Gyrotonic®, Feldenkrais®, contact improvisation, classical and ballroom dancing. Michelle and Joachim are also certified body and movement therapists in Rolfing® Structural Integration.
Thousands of students worldwide subscribe to their YouTube Video Channel, where they post many videos of past classes and shows.
Michelle and Joachim will teach a mini seminar on fridaynight, a masterclass seminar on saturday and sunday and a workshop on saturday evening. They will perform with Solo Tango on sunday night at the Farewell milonga.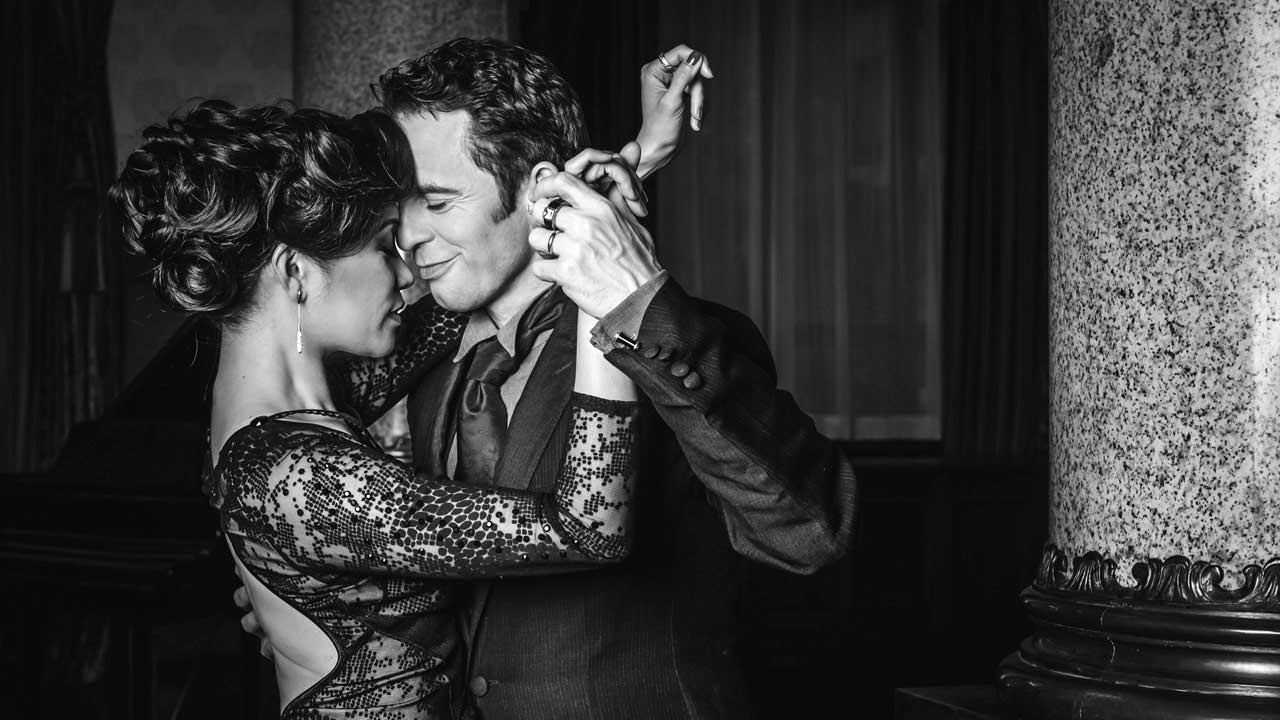 The musicians
Solo Tango Orquesta
Solo Tango orquesta is rapidly rising to the top of the world Tango Olympus. The team was founded in the summer of 2010 and in incredibly short time has gained international recognition.
Solo Tango plays at milonga's in tanda's, their vibrant style and superb technique give the dancers an unique feeling of dancing in the golden age of tango. 
It is the orchestra that is created by the efforts of magnificent Moscow musicians who have devoted many years of their lives to tango music. The sound of the orchestra can be described as the one with the perfect sense of style, powerful energy and high quality of performance.
The repertoire includes a complex tango songs that sound great at major concert halls, and also the best of tangos of the "Golden Age", which makes them convenient and comfortable to dance in the milongas.
Solo Tango Orquesta It is the only European tango-orchestra that was nominated to the First international "Premios Tango" (Buenos Aires / March 2018).
Solo Tango will play on saturday AND on sunday night 2 sets. On sunday night they will accompany Michelle and Joachim when they perform.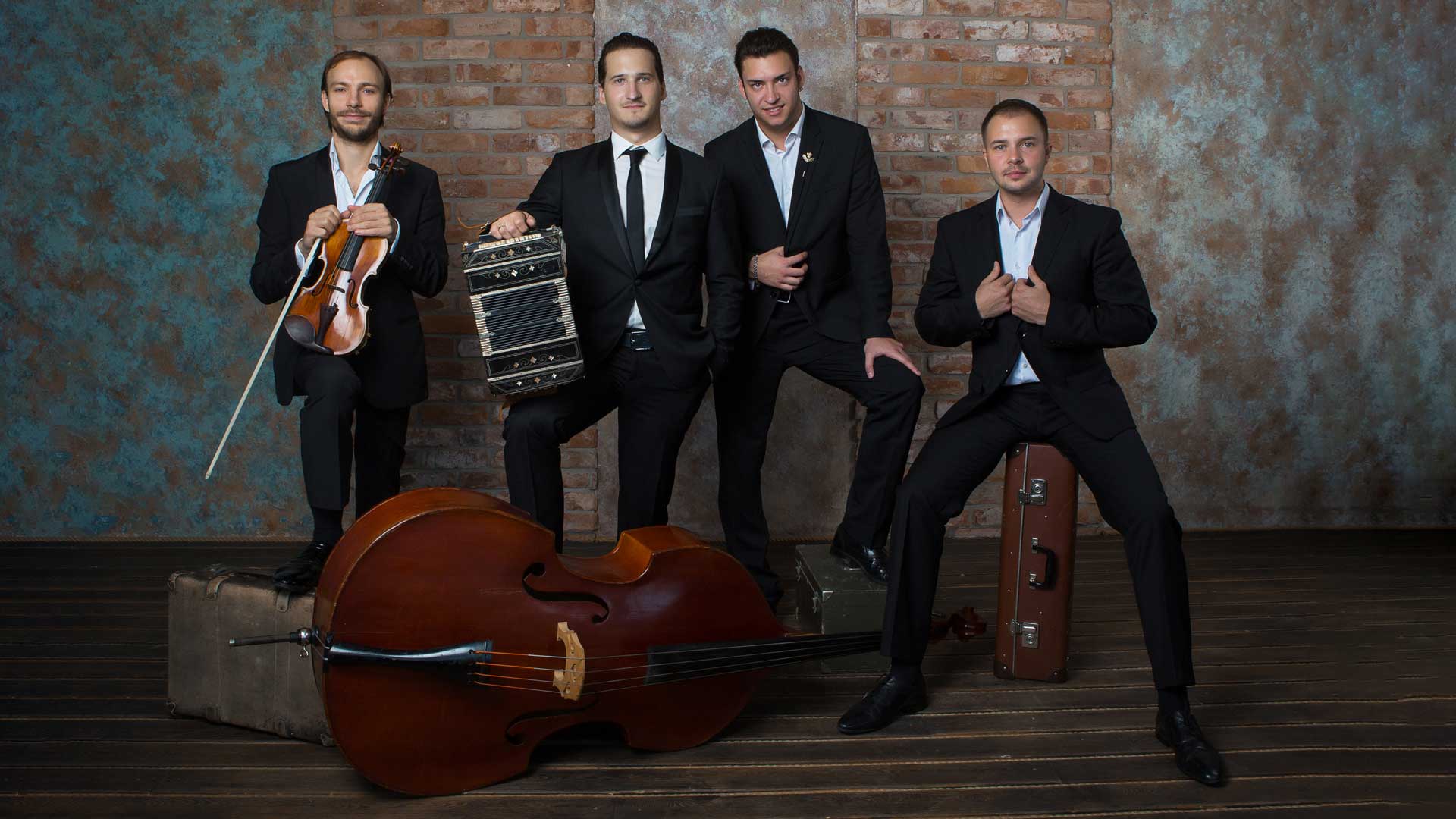 The DJ's
DJ Toufik Cherifi
"I have always been a music addict. Discovering blues, jazz, rock and soul music. But nothing could have given me this amazing feeling like tango. Tango came into my life by accident and since then I discovered a new world. A music so subtile, complex, and rich. Being a DJ was just a way to share what I feel. I want them to be in a joyfull mood."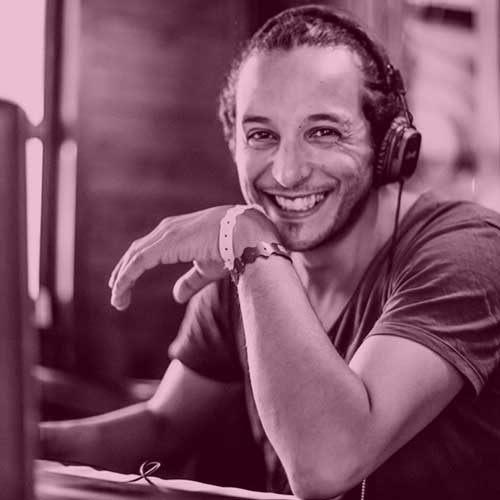 DJ DavidXTango
There's a Dutch saying: "Doe maar gewoon, dan doe je al gek genoeg". Translation: "Just act normal, that's already crazy enough". No extreme rare and weird collector's items, no challenging non dance-able tracks. Only a smooth flow of beautiful tango dance music from the Golden Age to make the embrace even more soft and intense throughout the tango night. DJ David has gained his experience by DJ-ing at local milongas, tango weekends and tango festivals in Germany, Italy, The Netherlands, Belgium, France, Austria, Switzerland, Spain, Portugal, England, Ireland, Czech Republic, China, Taiwan and Japan. DJ David plays quality music transfers from original shellacs and vinyls. Golden age. Modern orchestras on request. 100% dance-able. With high-end equipment to ensure music stability and quality throughout the tango night.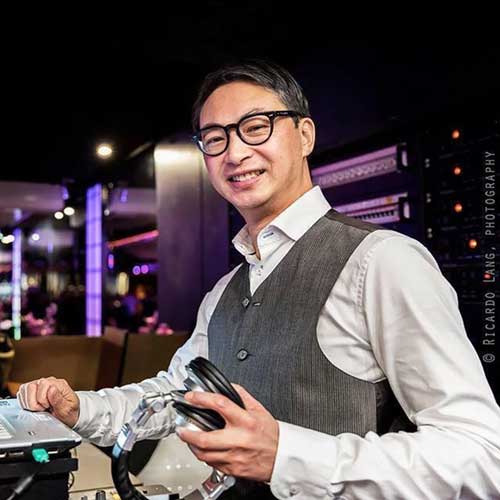 DJ El Jirafa (Jacob Vosmaer)
Jacob "El Jirafa" has been a tango DJ since 2011. He is known for playing 4 valses per tanda, not 3, and for playing funk / soul / disco cortinas. Sometimes he gets complaints for playing good tandas non stop, denying dancers the opportunity for a bathroom break.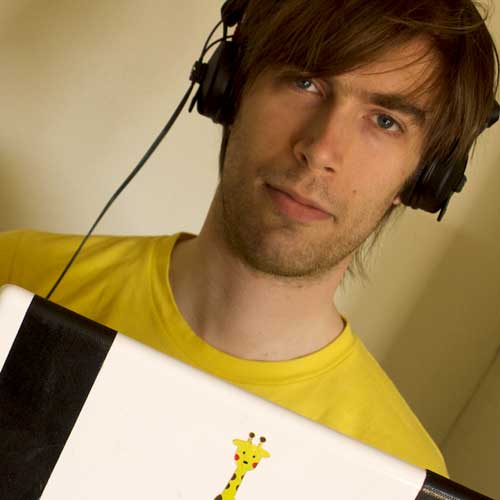 DJ Stefan Wimmer
His main goal is to connect to the dancers and create a specific mood & atmosphere during a milonga that keeps the dancers going and offers a great diversity. Therefore he's creating a coherent structure by using tandas (four songs per tanda, two tandas of Tangos followed by a tanda of Milongas or Vals alternately). If the location and the situation allows it he also includes cortinas.
His main ingredient form the orchestras from the Epoca de Oro but he also loves to give his music a twist by playing the lovely old & playful music from the Guardia Nueva. At some events he's also using pieces of Neo-Tango or even Non-Tango music to interpolate with the classical Tango music.
At the end it's all about the old saying:
"What kind of music do you like?" "Good music."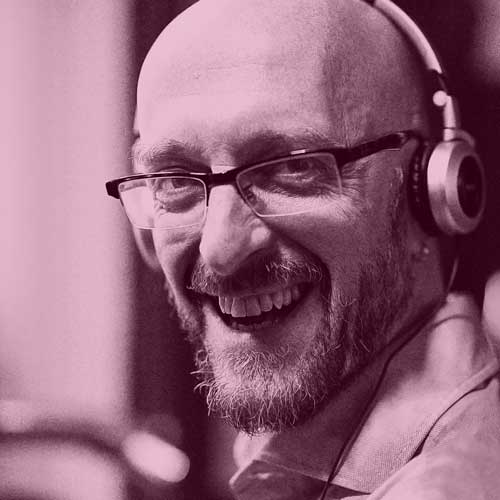 How to get to Amersfoort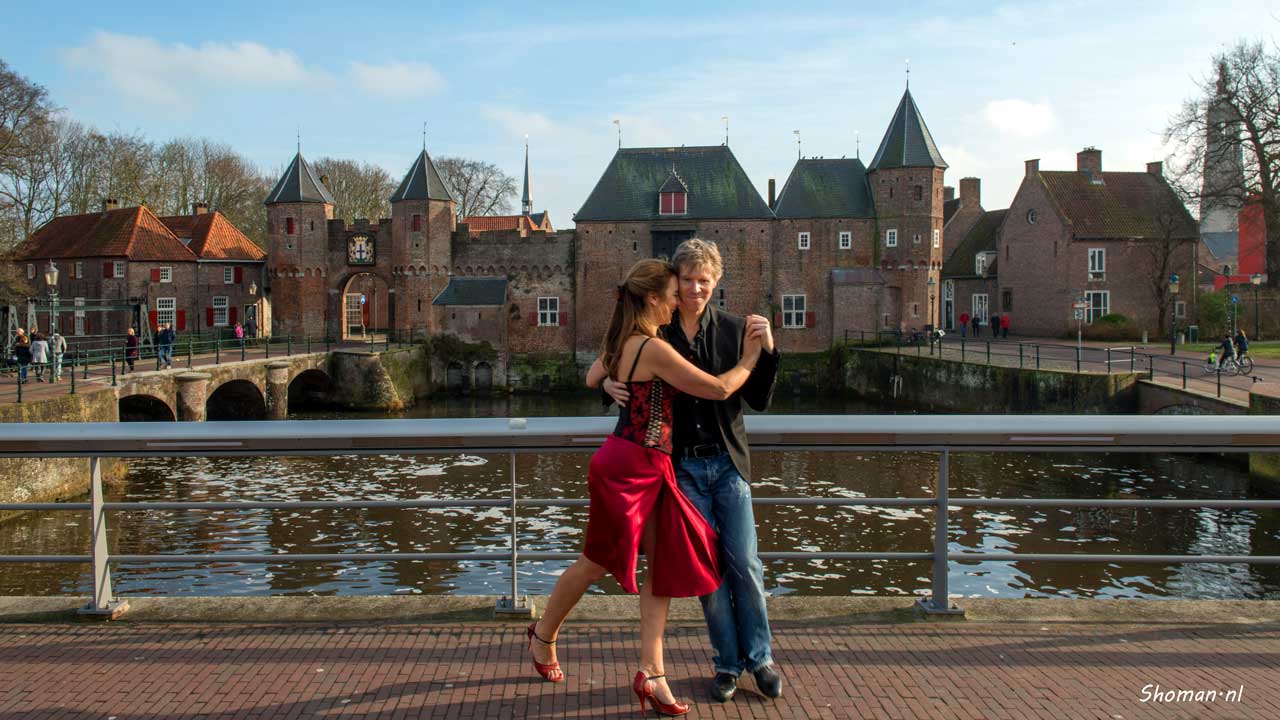 Amersfoort is a beautiful medieval city in the centre of the Netherlands. Small enough for site seeing in one day. You can walk around in the centre, or take one of the boat tours or walk around with one of the guides. The city is packed with nice restaurants. De Prodentfabriek (milonga location) and De Danswerkplaats (workshop location) are in an old industrial building, former toothpast factory, at the harbour, now a hotspot on the board of the city. 
Amersfoort is 40 min by train from Schiphol airport, 35 min from Amsterdam Centraal, 1 hour and 40 min (bus/train) Eindhoven airport. Easy to reach by car. Park around De Prodentfabriek for free.
Train: leave Amersfoort station on the "Soesterkwartier" side, go to the right until the big round about. Cross it, Pathe on your right, school on your left, after the school take left the little street that ends at a parkingspace. Go through the little gateway house. You're at Hoog Vuur, go right to see the blue door.
Car: The adres is Oude Fabriekstraat 20 but you better put your tomtom at the crossing of Brabantsestraat & Kleine Koppel, park there and walk through the gate towards Restaurant Hoog Vuur. The blue door on your right is the entrance. If you have an electric car you can park at the big parkingspace only for electric cars (Oliemolenhof), your charging card is your entrance. 
Where to stay
NH Hoteles and Mercure Hotel are close by. Make sure to become Accor member for discount at Mercure. 
Centre, walking distance: Queens, Tabaksplant, De Lange Jan, Logement de Gaaper, Keistad, 
Cheap, 20 min walk: Hotel Randenbroek
By bike (or car) you can reach also: Van de Valk (Amersfoort or Leusden), Bilderberg, Fletcher, Campanile, Best Western Berghotel. 
2 very cheap rooms for each 2 persons in Leusden at a little museum, contact me for info. 
Campings
3 campers can park at port Amersfoort (be in time, no reservation possible, max 3 nights)
Contact form
How may we help you? If you have questions please contact us.